Hello there, my name is Daphne!
Work
Lyft, Software Engineer Aug 2021 – Present
Builds and maintains features in Lyft's web app (ride.lyft.com), such as shared rides, scheduled rides and notifications.
Makes reusable and accessible web UI components as a part of Design Systems team.
Co-organizer and em-cee of Frontend All Hands.
Lyft, Software Developer Intern June 2020 – July 2020
Built coupon, shortcuts, payment methods, and dark mode with React and TypeScript for Lyft on the web.
Added support for A/B testing and created guidelines to set up experiments and control roll-out.
Selected as one of the 4 out of 180 interns to speak to 250 students on the Intern AMA Webinar.
Yelp, Android Developer Intern Jan 2020 – Apr 2020
Took ownership of implementation and launch for app-wide feature in the Yelp for Business Owner app.
Using Kotlin, Koin, RxJava, built carousels with nested scrolling content to promote major business features.
Planned and implemented architecture migration from MVP to MVI for Android alert banner with JUnit tests.
Shopify, Android Developer Intern May 2019 – Aug 2019
Planned and implemented the WebView remote debugging feature on Shopify's Android app.
Developed a notification system on Android with Java, Kotlin, and GraphQL to alert merchants of plugin issues.
Wrote advanced HTML to Android Spannable parser in Kotlin to render nested bulleted list data.
Hootsuite, Software Developer Intern Jan 2019 – Apr 2019
Added dynamic loading, category assignment, instant search to app store admin page with React, HTML/CSS.
Worked with cross-functional teams to launch Hootsuite app store and implemented API endpoints in Scala.
Royal Bank of Canada, Software Developer Intern May 2018 – Aug 2018
Increased efficiency of commodity tax data lookups by 2 months per year with C# and .NET automation.
Investigated, improved a 13-year-old system and served as single point of contact for business and QA teams.
Google, Google CodeU Mentorship program Feb 2018 – May 2018
Selected to participate in Google CodeU, an invite-only program to be mentored by a Google engineer.
Built a chat app in Java and introduced offline support by caching HTML pages and CSS with JavaScript.
Speaking
Speaker, CascadiaJS Conference - CascadiaJS is a JavaScript and web conference in the Pacific Northwest. My fiance and I shared how we make cooking, laundry, & calendar management easier using NodeJS, Notion/Trello APIs and IoT. "How we Automated our Relationship" was both technical and had a comedic flair.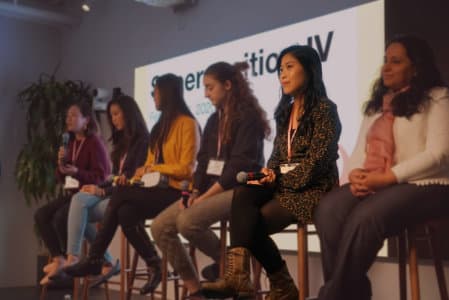 Speaker, ACM Richard Tapia Conference - Tapia Conference is a conference designed to promote diversity, connect ~2000 students, faculty, researchers, and professionals from all backgrounds. My co-speaker and I facilitated a workshop called "Fueling Your Career With Coffee Chats" to break down the process of coffee chats for participants to approach it step-by-step.
Panelist, Superposition IV - Superposition IV is the largest 24-hour hackathon for high school and college women in the Bay Area, hosted at the Uber office. I spoke on a panel to 220+ students answering questions about my experiences and and sharing advice to inspire the next generation of women in tech.
Workshop Speaker, Hack the 6ix - Hack the 6ix is Toronto's largest summer hackathon. I planned and taught an 1-hour workshop to 50+ students on making an Android app using Kotlin, Coroutines, Retrofit. I demonstrated how to make a simple UI and make network calls to Google Maps API through live-coding.
Conference Panelist, Microsoft Higher Education Summit - The Microsoft Higher Education Summit is a discussion on adapting curriculum, re-skilling and internships to the growing needs of tech. I was selected by Hootsuite to speak on a panel to 150+ attendees on the changes I'm hoping to see in classes and internships. I shared my views about imposter syndrome and people tweeted about it!
Projects
Founder and Co-president, UBC Women in CS Sept 2019 - Apr 2020
Started UBC Women in CS club, assembling a team of 10 student executives and 3 departmental sponsors, defining the mission and establishing overall infrastructure.
Represented the club in monthly department meetings to discuss progress and changes to the Computer Science department.
Executed 4 events throughout the term, such as paint night and board game events, reaching over 90 female CS students at UBC.
Co-Founder, UBC CS Coffee Chat Sept 2019 - Apr 2020
Matched 150+ lower year to upper year Computer Science students at UBC for monthly coffee chats, providing a chance to ask questions and receive mentorship.
Wrote a Python script to consume CSV data from Qualtrics forms and generate matching based on preferences.
Team Lead and AR Developer, UBC Emerging Media Lab Jan 2018 – Apr 2019
Liaised between 7 developers and a professor to build Soil TopARgraphy, an Augmented Reality app for a soil science class, built using Unity, Vuforia, and C#.
Project presented at 3 conferences, released on app stores, and is ready to be used by 250+ students.
Color Breakdown, Personal Project Oct 2018 – May 2020
Wrote Progressive Web App with Typescript and React to extract prominent colors from images.
Ported functionality to separate native Android app in Kotlin and published on Google Play.
Awards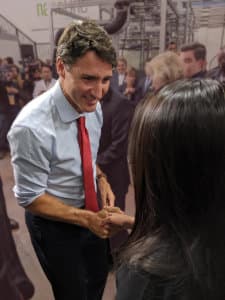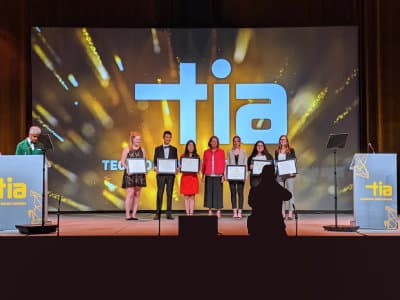 BC Tech Scholarship 2019 - Awarded to students who have a proven passion for technology and a desire to leave a mark in the tech sector. I was featured in a press release, magazine and was invited to meet Prime Minister Justin Trudeau.
IKB Women in Technology Scholarship 2019 - Awarded on the basis of academic achievement. Tweeted by UBC president Santa Ono.
VISIER Service Award for Women in Computer Science 2019 - Awarded for community service and student leadership.
UBC Grace Hopper Conference Scholarship 2018 - Attended the world's largest gathering of women in computing.
1st Place, Lumohacks 2017 - 1st place out of 300 participants. Built VR scenarios to help patients tackle phobias with Unity and C#.
Finalist, nwHacks 2018 - Finalist out of 800+ participants. Devised Android app around NFC functionality to reinvent museum experience.
1st Place, International Genetically Engineered Machine 2015 - 1st place out of 36 teams. Genetically engineered E.coli to tackle chronic inflammation. I presented our project in front of 2,500+ participants.
Blog
"My Remote Summer Internship at Lyft" - I wrote a blogpost to share my thoughts and learnings from my summer internsip at Lyft.
"Making Nested Lists with Android Spannables in Kotlin" - This blog post received 2,900+ views and was published by The Startup, Medium's largest active publication followed by 631K+ people. The blog is a tutorial on how to make nested lists with Android Spannables, which I learned during my Shopify internship. I created a lean sample Android application to walk through a step-by-step approach to developers.
"Advice from Full-timers at Hootsuite to Co-ops" - During my Hootsuite internship, I interviewed the CEO, Vice President, Director, manager, and software engineers through coffee chats to share their advice to interns from their views and experiences.
Random fun facts
I'm a improv performer at Jet City Improv in Seattle.
I've been roasted on stage at Socially Inept tech toast show.
I used to be a pharmacy assistant.
I've won a genetic engineering competition (iGEM) in high school.
I've won a grape stomping competition.
Education
University of British Columbia Sep 2015 - May 2021
Bachelor of Science in Computer Science